What's The right necklace length for your pendant?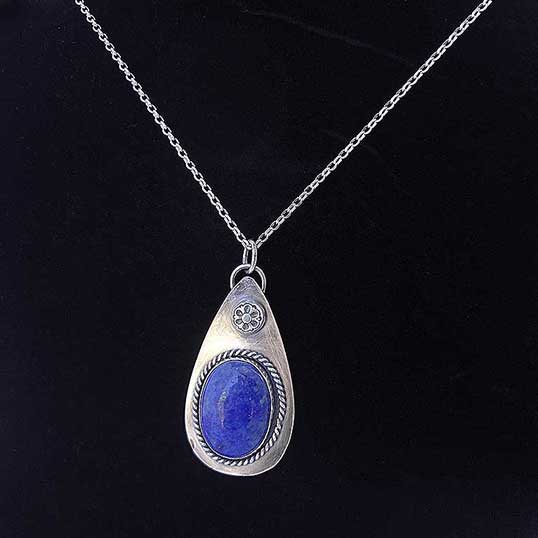 What's the right necklace length for your pendant? 
It's always exciting to be purchasing a new piece of jewelry such as a necklace, but sometimes a simple question such as The length of the necklace can leave you stumped, wondering what length would be flattering or would help you achieve the look you are going for, or what length will be the most flattering for you. I created this guide to help you figure out what length of necklace to choose. Keep reading for some tips on how to choose a necklace length that will work for you. Please, keep in mind that the model is about 5.5 feet tall and wears a Small to Medium size.
Usually, when choosing a necklace length to go with your outfit, you'll want to consider the type of neckline, and pick a necklace length to compliment what you are wearing. While there are standard length in the jewelry industry in general, you can always have a necklace customized to exactly what you want, especially if you're buying handmade jewelry from a jewelry artist, you can get exactly le length of necklace that you want.
Necklace length varies from 14 inch to 35 inch long in General. However, remember that you can customize anything to suit your particular need. Below are some information about of each necklace length.
14 inch Necklace:
 A choker is a tight piece jewelry worn around the neck, ordinarily 14 inch to 16 inch long. Chokers can be made of an assortment of materials, including fabric, plastic, beads, precious metals and so forth. Chokers can be worn with almost any type of outfit, which make them a versatile choice. 
Princess Necklaces are characterized either by their length or style. A princess necklace is 18 inch in length and is between a choker and a matinée! This length offers great versatility and is a very flattering length to most people. A pendant on a princess necklace will usually lay around the collar bones.
Necklaces that are between 20 and 24 inch long are called matinee necklaces,
The Matinee Necklace is usually between 20 and 24 inch long. This style of necklace will usually fall between the collarbone and the bust. This style of necklace looks best on turtlenecks tops or shirts with a collar. Because of the length, this type of necklace can be easily layered with other chains or necklaces to make a statement.
Opera Necklaces are between 28 and 32 inch long, and usually are at, or around the waistline
A good way to wear the same necklace at different length is to get an adjustable one, that can be worn as choker for instance, or as princess style necklace. This type of necklace can be worn long, or wrapped to create multiple layers around the neck. It's a versatile piece that can be worn different ways.
Necklaces longer than 32 inches are usually called lariat and can also be styled in a multitude of ways, which increases their versatility. Then can be wrapped around to create multiple rows and give a layered effect.
How to style different type of Necklaces.
Before wearing  your necklace, consider the style you're trying to achieve, the style of the outfit you're wearing or the overall style you're trying to achieve. For instance, if you're planning to wear a choker, this piece of jewelry will accentuate the neck area, and it will be best suited for an outfit that shows the neck area. So if a beautiful long neck is one of your asset, a choker will perfectly showcase that area and look even more beautiful. On the other hand, a choker will make a short or wide neck look stubby. The same goes with really long necklaces. A super long necklace may be really flattering on someone who's tall, but it may not look really attractive on someone who's short. So just play with the different styles and find something that compliment you the best.
Leave a comment
Comments will be approved before showing up.